Three for Wednesday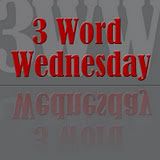 Have faith in the night—
it will not beat you, break you,
and then forsake you.

~~ ~~ ~~

If I were a gift,
I would not pressure myself
to dance or dazzle.

~~ ~~ ~~

To trade your language
for sounds that have no substance—
babbling to apples!

© 2012 by Magical Mystical Teacher
More
Three Word Wednesday: "Beat, Pressure, Substance"