Category Archives:
The Sunday Whirl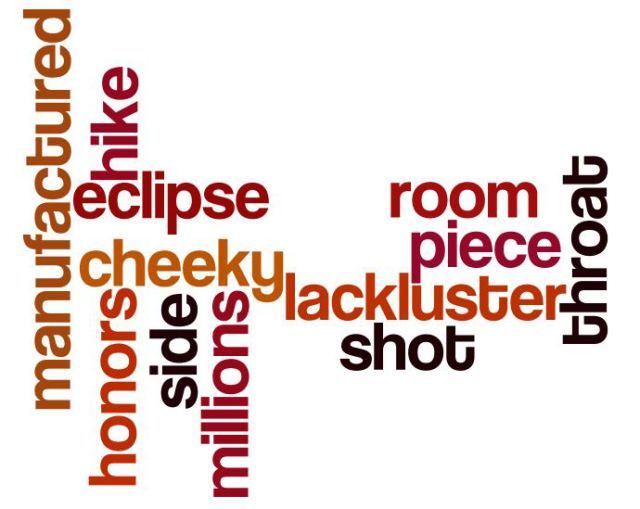 ~~ 1 ~~

over the yogurt
she lays a piece of muslin
to keep flies at bay

~~ 2 ~~

seven flavors of
manufactured excuses
dripping from her tongue

~~ 3 ~~

tonight's harvest moon
on this side of the river—
such a tiny coin

~~ 4 ~~

geese in the millions
drowning the eastern flyway
with their plaintive honks

~~ 5 ~~

an ancient pilgrim
forgetting her arthritis
on the sacred hike

~~ 6 ~~

feathers of brown birds
shot from black cannons at dawn—
how the West was won

~~ 7 ~~

perhaps the turtle
making low sounds in its throat
thinks dogs will cower

~~ 8 ~~

The storytellers
make room for one another,
using fragrant words.

~~ 9 ~~

writing a letter
with lackluster paragraphs—
the same dusty words

~~ 10 ~~

In his own country
no one honors the prophet—
even ravens mock.

~~ 11 ~~

One cry from the crow
beguiles the lunar eclipse
into shrinking back.

~~ 12 ~~

Cheeky ones go pale
whenever Jesus appears,
circumcising hearts.

© 2014 by Magical Mystical Teacher
More
Poetry Pantry #209
More
The Sunday Whirl, Wordle 169
The first line of each three-line snippet comes from
"Song of Myself"
by
Walt Whitman
.


~~ 1 ~~

the eyes of the dead,
blind to beauty and blessing,
staring at nothing

~~ 2 ~~

knowing the perfect
candle to banish darkness—
only damp matches

~~ 3 ~~

eddies of the wind
on a mission for the storm
rising in the west

~~ 4 ~~

The shelves are crowded
with things simple and complex—
have you need of more?

~~ 5 ~~

choosing a safe spot,
perhaps your arms for the night,
before moving on

~~ 6 ~~

She owns the fine house
at the tip of the cape, where
no one is welcome.

~~ 7 ~~

on the granite floor
rivers of fresh blood flowing
from the killing spree

~~ 8 ~~

In the little wells
where the prairie meets the hill,
blind creatures huddle.

~~ 9 ~~

with me on the grass
seven ragged musicians
playing haunting tunes

~~ 10 ~~

Leaving me baskets
filled with ripe apples and rain,
she slips out to sea.

~~ 11 ~~

The little one sleeps,
caring nothing for the ghosts
that would torment her.

~~ 12 ~~

Stall in the market—
an image of St. Joseph
stirs among the spoons.

© 2014 by Magical Mystical Teacher
More
Poetry Pantry #208
More
The Sunday Whirl, Wordle 168


~~ 1 ~~

Seeking one ripe plum,
I approach the laden tree
with a grateful heart.

~~ 2 ~~

seeking one ripe plum
behind the blue pantry door—
no one has a key

~~ 3 ~~

Seeking one ripe plum
to split among my children—
each will taste a slice.

~~ 4 ~~

seeking one ripe plum
to the east of the grain field—
three crows menace me

~~ 5 ~~

seeking one ripe plum
to give to the single mom
in Apartment 3

~~ 6 ~~

Seeking one ripe plum
I scratch my head in wonder
before the gnarled tree.

~~ 7 ~~

seeking one ripe plum—
depending on the moon's phase
I might find seven

~~ 8 ~~

seeking one ripe plum
while the player piano
rolls out tinkly tunes

~~ 9 ~~

seeking one ripe plum
for the youngest of my sons—
his birthday present

~~ 10 ~~

Seeking one ripe plum—
the glint in her eye tells me
she'll split the bounty.

~~ 11 ~~

seeking one ripe plum
on a level garden path
wingless butterfly

~~ 12 ~~

seeking one ripe plum
while spiders attach their webs
to my eyes and ears

© 2014 by Magical Mystical Teacher
More
Poetry Pantry #207
More
Sunday Scribblings 2: "Plum"
More
The Sunday Whirl, Wordle 167