Blog Archives

Old age is a neat little trick
For people who never get sick.
But if you're not well,
Old age can be hell—
As if you were hit by a brick.


Limerick © 2018 by Magical Mystical Teacher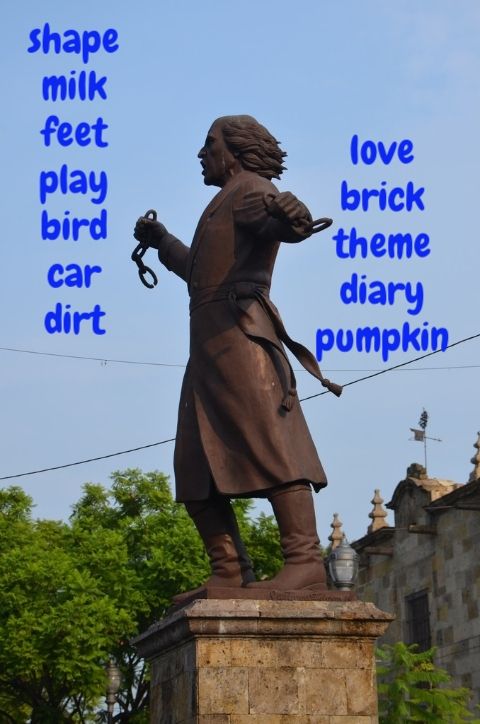 O my little pumpkin-head,
How you thrilled me when you said,

"Bring me milk and bring me dirt—
I will teach you how to flirt.

All night long we'll play at love,
While the wheeling stars above

Shape and shape anew our dream:
To have love our only theme.

Neither brick nor bird nor car
Will outshine that dazzling star,

Star that guides our hands and feet
In the ways that lovers meet."

O my little pumpkin-head,
I'm still thrilled, though you are dead.



~~ 1 ~~

last year's ornaments
still shining in their splendor
for a few more hours—
a luxury to see them
among the pots and kettles

~~ 2 ~~

Where do they come from,
these poems at break of day,
wild as mists rising
high above the balcony?
Even ravens flap away.

~~ 3 ~~

brown wicker hampers
with dirty clothes poking out
spilling to the floor—
you've seen them in apartments
where the water's been shut off

~~ 4 ~~

Behind closed windows
someone is brewing coffee—
a curtain flutters
and dancing daydreams scatter
like a flock of frightened hens.

~~ 5 ~~

Even coming twice
the horses seeking sugar
do not get enough
to satisfy their hunger—
they press against the railing.

~~ 6 ~~

Whose old singing voice
nestles in the empty pot
in front of the redbrick wall?

Tanka and haiku © 2015 by Magical Mystical Teacher
More
Poetry Pantry #271
More
Sunday's Whirligig #26
This week's words:
amalgam, gravel, trash, nothing, cheat, vacant, brick, mouth, tentacles, fence, notices, everything, balance


~~ 1 ~~

an old photograph
amalgam of sepias
staining the paper

~~ 2 ~~

Forties photograph—
we are planting apple trees
near the gravel pit.

~~ 3 ~~

She writes poetry
on the photograph's edges—
two words rhyme with trash.

~~ 4 ~~

Her crushing losses—
nothing in the photograph,
but what is missing.

~~ 5 ~~

See this photograph?
Even though her bed's on fire,
still you cheat on me!

~~ 6 ~~

From the photograph
she stares out with vacant eyes—
no one knows her name.

~~ 7 ~~

Frankfurt photograph—
graffiti stains a brick wall,
while old men play chess.

~~ 8 ~~

her mouth makes an O
staring at the photograph
of the one she loves

~~ 9 ~~

Grandma's photograph—
apron strings in disarray
tentacles of grace

~~ 10 ~~

Old fence photograph—
cowboys will never forget
mustangs corralled there.

~~ 11 ~~

A faded photo—
she notices his squinting
eighty years ago.

~~ 12 ~~

everything but one
shows in the old photograph—
miser's wizened heart

~~ 13 ~~

on a balance beam
the small child in the photo
smiles with confidence

© 2013 by Magical Mystical Teacher
More
Poetry Pantry #172
More
The Sunday Whirl, Wordle 131
Clifton, Arizona

Whether brick or stone,
all edifices crumble—
preening ravens gloat.