Blog Archives

In a field of strange surprises, one chipped cup appears;
Yellow roses near the lip have faded with the years.

A clothesline pinned with tables, along with rusty tools,
Earns heaps of raw derision from mouths of Sunday fools.

They say the world is flooding and seas are black with ink.
But who knows what the truth is, and who knows what to think?

The end of time's upon us, and dust coats every shelf.
But what's the use of cleaning? Just leave that to the elf.




~~ ~~ 1 ~~ ~~

Observe the maggots; climb the stairs;
Smell the coffee; ignore grey hairs;
Your cup is full, you need no more—
Go forth in peace, and close the door.

~~ ~~ 2 ~~ ~~

Enough is enough, fool on the hill;
Hush all your babbling, and just be still.

~~ ~~ 3 ~~ ~~

The one who leaves will return,
Having seen the mountain burn,
And the crocus will rejoice
When it hears the master's voice.

~~ ~~ 4 ~~ ~~

Neck and neck the horses run,
Uphill, downhill, just for fun.

Poems © 2018 by Magical Mystical Teacher
More
Sunday's Whirligig #173
More
Poetry Pantry #414 at Poets United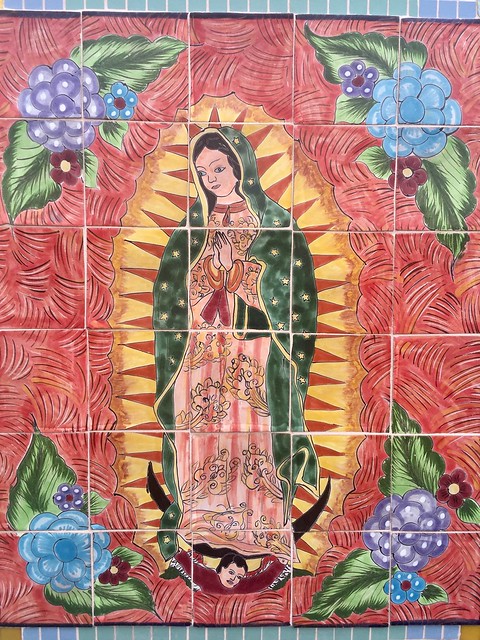 A mosaic depicting La Virgen de Guadalupe, Ajo, Pima County, Arizona
Discarded soft drink cup,
Sonoran Desert
, Southern Arizona
Discarded cup,
Sonoran Desert
, Southern Arizona  
Autumn 2011, Northern Arizona

January thirst—
a photo from autumn past
fills my empty cup


Haiku © 2016 and photo © 2011 by Magical Mystical Teacher
Discarded cup,
Sonoran Desert
, Southern Arizona

summer leaks away
from the broken-handled cup—
desert drinks the dregs


Haiku and photo © 2015 by Magical Mystical Teacher
Autumn 2011, Northern Arizona
Puerto Nuevo
, Baja California Norte, México
Nightshade blossom,
Wilderness Gardens Preserve
, Pala, California