Blog Archives
A red leaf among pine debris,
Lockett Meadow Campground
, Coconino National Forest near Flagstaff, Arizona, autumn 2016  
A Yuma County, Arizona home still glows with Christmas lights in 2017.

Though Christmas is past,
light still shines in the darkness
of a desert night.

Haiku and photo © 2017 by Magical Mystical Teacher
More
Blue Monday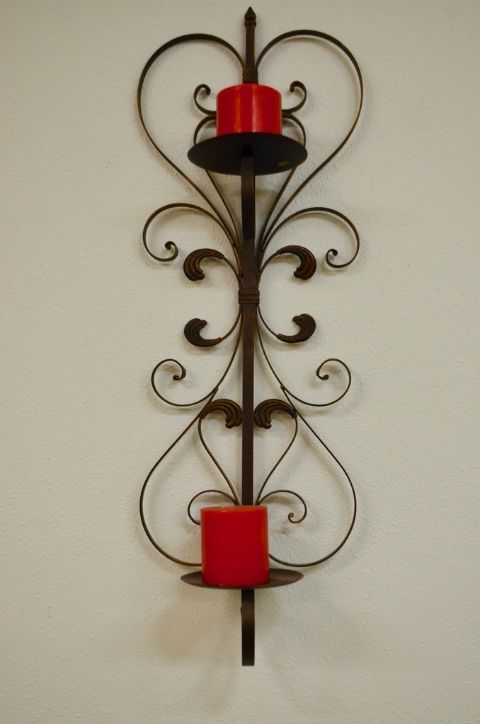 Decorative candles on a church wall, Yuma County, Arizona

only a candle
to drive away the darkness
but it is enough


Haiku and photo © 2016 by Magical Mystical Teacher
A section of a church bookshelf

Many years ago I was invited to teach an adult Sunday school class. I read the text that we were supposed to discuss, the words of Jesus from Luke 14:26: "If anyone comes to me and does not hate his own father and mother and wife and children and brothers and sisters, yes, and even his own life, he cannot be my disciple."

"This is an example of hyperbole," I said. "Jesus is exaggerating for the sake of emphasis. He doesn't really expect you to hate those who are near and dear to you."

Willard bristled at my statement. "My Bible says that you have to hate them," he said.

"It's a figure of speech," I countered. "Can you follow Jesus and hate your wife?"

"It's not a figure of speech," Willard insisted. "It says hate and it means hate."

The rest of the class grew increasingly uneasy as Willard and I traded verbal blows.

At last I said, "I guess we're just going to have to agree to disagree." And I moved on.

Virgin of Guadalupe candelabrum by artist
Anado McLauchlin
, La Cieneguita, Guanajuato, México

the hem of her dress
blazing a way through darkness
thread by slender thread

Haiku © 2016 and photo © 2012 by Magical Mystical Teacher
More
Haiku My Heart
at
Recuerda Mi Corazon
Discarded materials from a construction site gathering evening shadows, Southern Arizona

In a box of castoff wood,
Shadows do what shadows should:
Downplay darkness, accent light,
Making all the world seem right.

~~ ~~ ~~


Yuma Pioneer Cemetery
, Yuma, Arizona
Yuma Pioneer Cemetery
, Yuma, Arizona

The shadows are long, the cross is askew;
What Death has accomplished, who can undo?

A riddle, I think, whose answer is right:
Forsaking all darkness, look to the Light.

Poem and photo © 2016 by Magical Mystical Teacher
More
Poetry Pantry #295
More
Shadow Shot Sunday 2
Each breath-of-a-poem begins with a phrase purloined from
A Year in the World: Journeys of a Passionate Traveller
by Frances Mayes.

~~ 1 ~~

day for gathering
praise in a sturdy backpack—
travel sustenance

~~ 2 ~~

above the doorbell
only a hint of darkness—
first day of summer

~~ 3 ~~

into his pocket
shoving the works of darkness
written on a scrap

~~ 4 ~~

a French pastry shop
on a cobbled city street—
the lure of éclairs

~~ 5 ~~

sesame cookies—
hungry children devour them
Sunday afternoons

~~ 6 ~~

a basket of bread—
giving thanks for seven loaves
baked fresh this morning

~~ 7 ~~

the map in the car
showing a tortuous way
through the wilderness

~~ 8 ~~

going the wrong way
not discerning north from south—
careless traveller

~~ 9 ~~

communion wafers—
seeking counsel on the way
from tasteless morsels

~~ 10 ~~

olives everywhere
but no wine for the thirsty—
traveller's nightmare

~~ 11 ~~

Massive olive trees—
my enemy chops them down
with his keen-edged axe.

~~ 12 ~~

a full moon ago
traveller fainted at dusk—
on the road again

Haiku © 2016 by Magical Mystical Teacher
More
Poetry Pantry #292
More
Sunday's Whirligig #49
San Miguel de Allende
, Guanajuato, México

a house protected
from the powers of darkness—
only three sorrows

Haiku and photo © 2015 by Magical Mystical Teacher
More
Twelve Days of Mary