Blog Archives
In the riverbed I listened while the fishes swam and spoke;
The tales that they were weaving made me want to have a smoke
Of something much more potent than a Winston or Pall Mall,
But the room beneath the water had no butler and no bell.
Thus I could not call for hashish, so I tried to calm myself
By burning fragrant incense that I found upon a shelf.
The smoke set me to dreaming, and my arms fell limp at last,
I felt empty as a daydream from my mother's distant past.
I fear you won't believe me, nor the story that I tell,
So here's the final word, my friends: I bid you all farewell.  
Poem © 2019 by Magical Mystical Teacher
More
Sunday's Whirligig #230
More
Poetry Pantry #492 at Poets United


~~ ~~ 1 ~~ ~~

The pimple ripens slowly, so everyone can see
That this unsightly blemish is clearly part of me.

~~ ~~ 2 ~~ ~~

Cancer turns a man to dust.
What is this, if not unjust?

~~ ~~ 3 ~~ ~~

Empty your closet, toss out your belts—
With global warming everything melts.

~~ ~~ 4 ~~ ~~

Is anyone clever enough to measure
The actual weight of the thing called Pleasure?

~~ ~~ 5 ~~ ~~

My horse will wear silver, my horse will wear gold,
He'll walk where he wants to, and not where he's told.

~~ ~~ 6 ~~ ~~

Your spine belongs behind you, not in front, my dear,
For if your spine were frontal, where would be your rear?

Poems © 2018 by Magical Mystical Teacher
More
Sunday's Whirligig #175
More
Poetry Pantry #416 at Poets United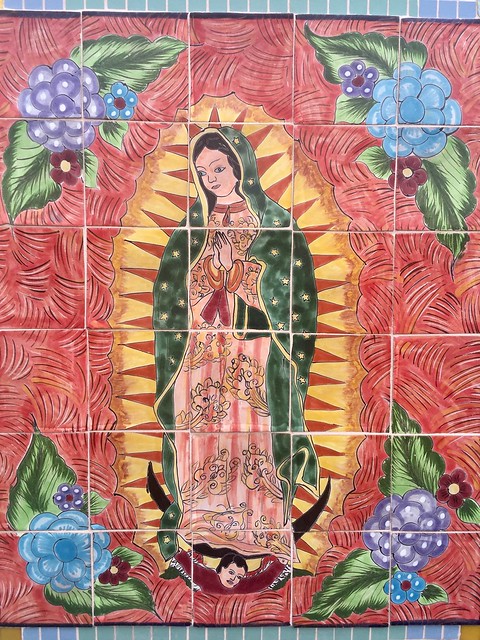 A mosaic depicting La Virgen de Guadalupe, Ajo, Pima County, Arizona
Mercado San Juan,
Morelia, Michoacán, México

Looking for a basket,
I found one just for me,
A little white and blue one
As pretty as could be.
But when I went to buy it,
Someone called my name,
So I left the marketplace
As empty as I came.

Poem © 2016 and photo © 2012 by Magical Mystical Teacher
More
Blue Monday
More
Poetry Pantry #321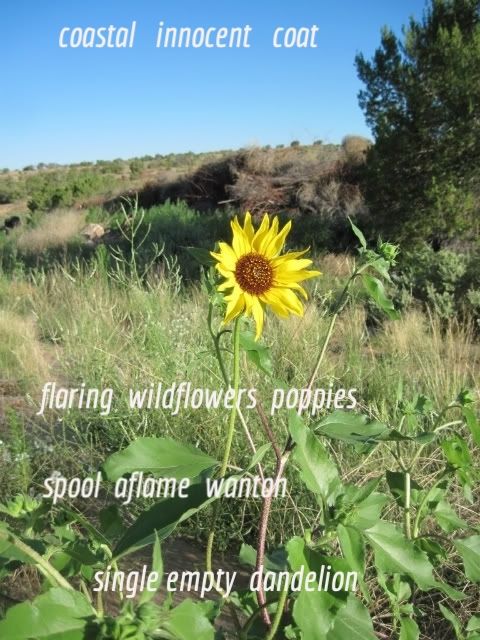 ~~ 1 ~~

ten million poppies
carpeting the soldiers' graves
near the killing fields

~~ 2 ~~

innocent blood spilled
in a backstreet of Baghdad—
news at six o'clock

~~ 3 ~~

The soldier's widow—
how can she ever forget
his empty left sleeve?

~~ 4 ~~

coastal snow flurries
in the middle of summer—
those wanton moments

~~ 5 ~~

summer wildflowers—
no one remembers the name
of the yellow ones

~~ 6 ~~

three dandelions
clutched in the little boy's hand—
his Mother's Day gift

~~ 7 ~~

aflame with desire
for something just out of reach—
teacakes under glass

~~ 8 ~~

single grain of rice
gracing the monk's dinner plate—
enough, for a change

~~ 9 ~~

the stallion's nostrils
flaring with indignation
at bit and bridle

~~ 10 ~~

a spool of white thread
covered with dust on the shelf—
seamstress in mourning

~~ 11 ~~

giving the old chair
another coat of varnish—
summer's first full moon

Haiku © 2016 by Magical Mystical Teacher
More
Poetry Pantry #308
More
Sunday's Whirligig #65
Soldier's grave decorated for Memorial Day, Wellton Memorial Cemetery, Wellton, Arizona



gritty and filthy—
their faces at twilight
when they come home from the mine

one of them enters an empty house
(his wife left two months ago)

one of them finds
only fetid cabbage soup on the table—
not enough money for meat or milk

and one of them sips a bitter drink
from a mug with a broken handle

all three of them know
that nothing will ever be the same again—

the streetcar that used to stop at the corner
to carry them to the mine
(ten cents round trip)
sits rusting in the rail yard
and not even a vow to the gods
will make its wheels turn again


Late winter sunrise, filtered by the branches of an
ironwood tree
,
Sonoran Desert
, Southern Arizona
Autumn 2011, Northern Arizona

January thirst—
a photo from autumn past
fills my empty cup


Haiku © 2016 and photo © 2011 by Magical Mystical Teacher