Blog Archives
at the water's edge
the saved wait to be baptized—
old-time religion
shadows by the bridge
sculpted from hollowed-out light—
great blue heron's cry
feet follow cinders
leading to the temple gate
a place of great grace
fingers framed by light
clutching an old rosary
carved of human bone
Haiku © 2020 by Magical Mystical Teacher
More
The Whirligig #281
More
Writers' Pantry #35 at Poets and Storytellers United
This is the summer of braids and bare feet;
We manage somehow to survive the heat.
Maybe some shifts in the shimmering line
Assure us we're well, and all will be fine.
Maybe it's magic, and maybe it's not,
But suddenly things don't seem quite so hot.
We look in the mirror, knowing we must,
And find we have enough faith to trust
That whatever comes again we can face
As long as our fingers reach out for grace.
Poem © 2020 by Magical Mystical Teacher
More
The Whirligig #279
More
Writers' Pantry #33 at Poets and Storytellers United
Christmas tree decorations in a Yuma County, Arizona church

Where is the starlight
to keep my feet from stumbling
on the long way home?


Haiku © 2016 and photo © 2014 by Magical Mystical Teacher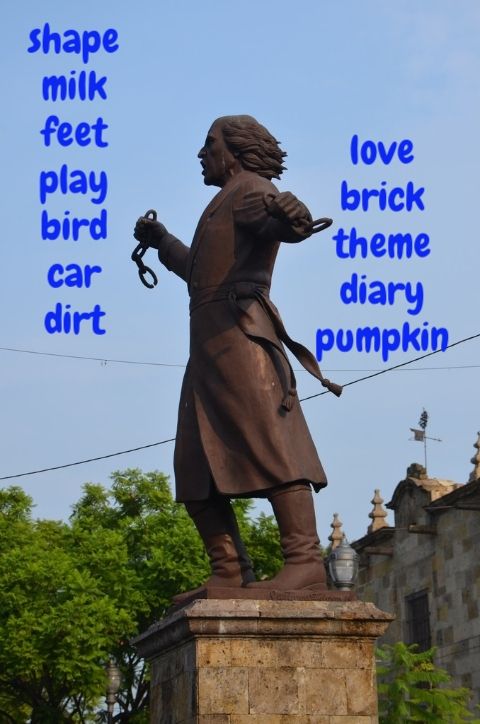 O my little pumpkin-head,
How you thrilled me when you said,

"Bring me milk and bring me dirt—
I will teach you how to flirt.

All night long we'll play at love,
While the wheeling stars above

Shape and shape anew our dream:
To have love our only theme.

Neither brick nor bird nor car
Will outshine that dazzling star,

Star that guides our hands and feet
In the ways that lovers meet."

O my little pumpkin-head,
I'm still thrilled, though you are dead.


On the shore of
Lake Skinner
, Winchester, California

Even the spent weeds,
women with delicate feet,
rustle as you pass.


Haiku © 2015 and photo © 2013 by Magical Mystical Teacher
A stone Buddha in a hidden courtyard,
San Miguel de Allende
, Guanajuato, México
Koi pond,
Japanese Friendship Garden
, Phoenix, Arizona
Yuma Pioneer Cemetery
, Yuma, Arizona

among the tombstones
seeking immortality—
dust clings to my feet


Text and photo © 2015 by Magical Mystical Teacher

More Carpe Diem: "Immortality"
Christmas tree decorations in a church in Arizona
Our Lady of LaVang
,
El Santuario de Chimayo
, Chimayo, New Mexico