Blog Archives

Bleak is the stable and frosty the hay;
The old shepherd's moaning, "Please go away!
Give me some quiet, for that would be bliss;
Messes annoy me—just look at all this!
Some other farmhand should milk the brown cow,
While I feed the lambs, the calves, and the sow.
Yes, I know my part, I know it right well:
Work is my worship, despite the rank smell."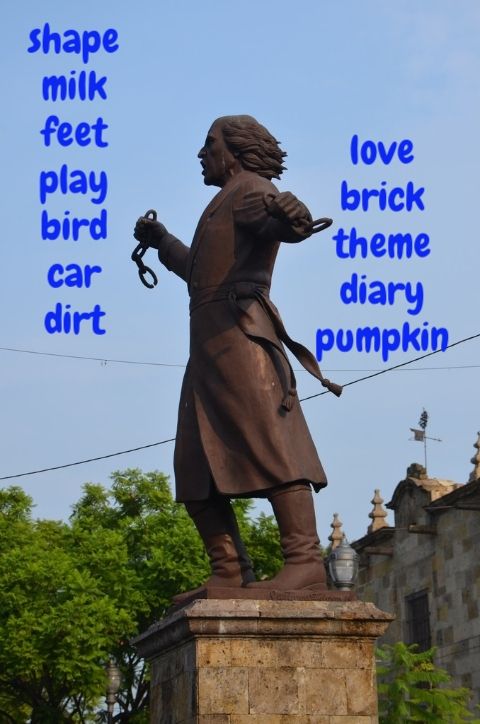 O my little pumpkin-head,
How you thrilled me when you said,

"Bring me milk and bring me dirt—
I will teach you how to flirt.

All night long we'll play at love,
While the wheeling stars above

Shape and shape anew our dream:
To have love our only theme.

Neither brick nor bird nor car
Will outshine that dazzling star,

Star that guides our hands and feet
In the ways that lovers meet."

O my little pumpkin-head,
I'm still thrilled, though you are dead.


Mural,
San Miguel de Allende
, Guanajuato, México


~~ 1 ~~

the hummingbird feast—
taking a risk as they thrum
toward the feeding place

~~ 2 ~~

Hummingbirds at work—
one minute they have courage,
the next their hearts fail.

~~ 3 ~~

written on a wall—
letters to a hummingbird
and the chill north wind

~~ 4 ~~

a trip through traffic
to reach the secret place called
hummingbird heaven

~~ 5 ~~

If the hummingbirds
urge you to share in their feast,
what does it matter?

~~ 6 ~~

a liter of milk
brought to the hummingbird feast
and laced with sugar

~~ 7 ~~

Two hummingbirds watch
as I link my arm in yours—
they call us lovebirds.

Text and photo © 2015 by Magical Mystical Teacher
More
Blue Monday
More
Carpe Diem Special #173
More
The Sunday Whirl, Wordle 220