Blog Archives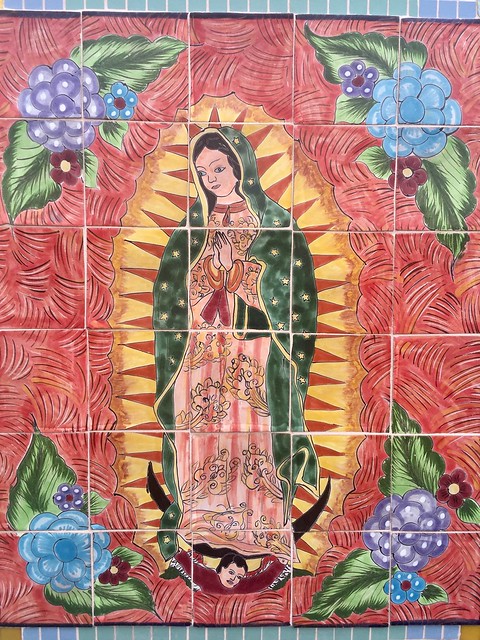 A mosaic depicting La Virgen de Guadalupe, Ajo, Pima County, Arizona
Detail from a mosaic on a community wall, Ajo, Arizona

We're a desert family,
We know the ways of stones,
Cactus wrens and rattlesnakes—
The desert's in our bones.

To snatch us from the desert
Would make our poor hearts ache,
For desert-dwellers cannot thrive
Beside an azure lake.

Poem and photo © 2017 by Magical Mystical Teacher
More
Poetry Pantry #362 at Poets United
Posted in Ajo, Arizona, Blue Monday, light verse, Poetry Pantry, Poets United, Rhyming poetry
Tags: Ajo, Arizona, Blue Monday, bones, cactus wren, desert, family, mosaic, rattlesnake
Detail from a community wall covered with mosaics, Ajo, Arizona

Telling a story can mean lots of things:
Crosses, and cacti, and birds with long wings;

Photos, and artwork that's hung on the fridge;
Our very first kiss down under the bridge.

We need to tell stories, tell them a lot—
They tell who we are, and who we are not.

And this is the thing that stories do best:
They help us belong, and show we are blest.

Poem and photo © 2017 by Magical Mystical Teacher
One of several mosaics on a downtown wall, depicting the history of Ajo, Arizona