Category Archives:
Apache County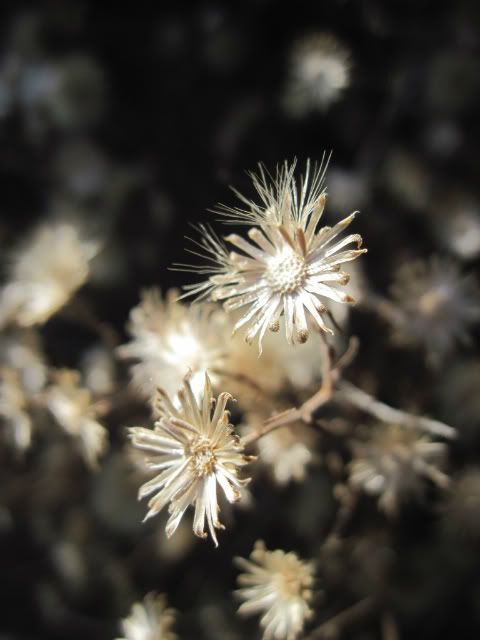 Dried aster seed heads, Apache County, Arizona.
Pine boughs laden with snow in Apache County, Arizona.

Snow on the pine boughs, snow in the air!
Snow on the fox and raven and hare!
Snow in the valley, snow on the hill!
Snow on the rock, the ridge, and the rill!

Everywhere, everywhere snow is in sight!
Everything wears a blanket of white!
Nothing escapes the fingers of cold—
Winter is here, the world waxes old.


Poem © 2018 and photo © 2011 by Magical Mystical Teacher
Cottonwood leaf in autumn, Apache County, Arizona.
~~ ~~ 1 ~~ ~~
A hole in the fence:
Will I be able to see
the oak leaves falling?
~~ ~~ 2 ~~ ~~
on the dusty end
of my workshop's topmost shelf:
three leaves from the oak
~~ ~~ 3 ~~ ~~
How strange the patterns
made by ginkgo leaves falling
into the gutter!
~~ ~~ 4 ~~ ~~
Under the plum tree
a cardboard box fills with leaves—
how tattered they look!
~~ ~~ 5 ~~ ~~
Near the tube station
we slog through wet autumn leaves,
eager to be home.
~~ ~~ 6 ~~ ~~
wherever I turn
in the last days of autumn:
sodden maple leaves
~~ ~~ 7 ~~ ~~
pieces of old dreams
some of them with falling leaves
some of them with stones
Haiku © 2018 by Magical Mystical Teacher
More
Sunday's Whirligig #183
More
Poetry Pantry #424 at Poets United
Apache County, Arizona
A boulder surrounded by birdsong in a remote location, Apache County, Arizona

Some books I found in passing
Contained disturbing words:
The end is near, they seemed to say,
Pay heed to stones and birds;

For in this warming climate,
Where things are changing fast,
Not even stones and blackbirds
Have stamina to last.

Poem © 2017 and photo © 2011 by Magical Mystical Teacher
More
SkyWatch Friday
More
Midweek Motif at Poets United: "Books"
Footprint in a sandy wash, Apache County, Arizona

choosing a new path
before the wind can erase
yesterday's footprints

Haiku © 2016 and photo © 2011 by Magical Mystical Teacher
More
Haiku Horizons: "Choose"
More Midweek Motif at Poets United: "Path"
Wild asters, Apache County, Arizona