Category Archives:
Ajo
An abandoned car rusts in Ajo, Arizona
Rugged mountains near Ajo, Arizona
Detail from a wall of mosaics, Ajo, Arizona

Cactus Woman has nothing to lose
By walking for weeks without wearing shoes.

She's toughened her feet on thorns and stones,
And carries the wilderness in her bones.

Her eyes are afire, her heart's ablaze;
She loves the desert's unsociable ways.

Cactus Woman is someone, they say,
Who'll live in the wilderness, come what may.

Poem © 2018 and photo © 2017 by Magical Mystical Teacher    
Mural in Artists Alley, Ajo, Arizona

The guys in the band wear big shoes.
It helps them, they say, play the blues,
While folks in the street
Just jive to the beat—
They must have a rollicking muse!

Limerick © 2018 and photo © 2017 by Magical Mystical Teacher   
More
Midweek Motif at Poets United: "Shoes"
Ocotillo blossoms, Organ Pipe Cactus National Monument, Southern Arizona
Detail from a mosaic on a community wall, Ajo, Arizona
A statue of the Virgin Mary, Ajo, Arizona

Mary, are you feeling blue?
Are you feeling weary?
All the beggars come to you,
And their eyes are bleary.
 
Seeking favors from your hand,
They clamor and they shout.
Is it more than you can stand
To have them round about?
 
But your ways are not our ways,
Your hands are filled with grace,
Which you pour out on the strays
Of our ungrateful race.

Poem and photo © 2017 by Magical Mystical Teacher    
More
Twelve Days of Mary
at
Recuerda Mi Corazon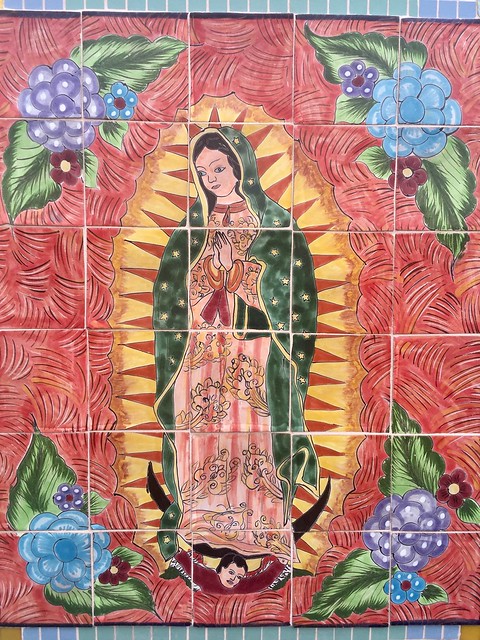 A mosaic depicting La Virgen de Guadalupe, Ajo, Pima County, Arizona
Detail from a mural in Artists Alley, Ajo, Arizona