Blog Archives

Water spilling from a cup—
Will you help me wipe it up?
Grass is crying in the rain—
Watch out now, here comes a train!
Throw the broken plate away,
And then ask your friend to play.
Sing and sway, don't rock the boat!
Just remember: Stones can't float!

Poem © 2021 by Magical Mystical Teacher

What you've stolen fades away,
Nothing made of gold can stay;
All your silver turns to brass,
All your diamonds into glass.

Look at your reflection fair
In the mirror hanging there;
Peer again, though, and you'll see
You're laced with mortality.

Cruel payment's coming due;
You will have to pay it, too.
All the games you like to play?
Death will snatch them clean away!

Until then, however, know
That you're free to come and go,
Doing what you like to do—
But on Judgment Day, you're through!


A desert family enjoys the cool December weather in this mosaic on a wall in Ajo, Arizona.

It's winter, my love, keep playing the bones!
Stars o'er the valley are singing to stones.
Keep yourself limber, and shrug off the cold.
Summon your courage, and learn to be bold—
Bold in the barnyard, and bold in the dome,
Bold when you're far, far away from your home.
I'll end my song here, and hope that you find
That most folks are true, and loving, and kind.

Poem © 2018 by Magical Mystical Teacher
Kiss the acrobat goodbye,
Do not be afraid to fly.
Play the right chord, not the wrong;
I will listen to your song
And admire your awesome skill—
Aim for dulcet notes, not shrill!
Test your apron, tie it tight—
Hope your cookies turn out right!
I've been missing you a bunch—
Let's have cookies for our lunch!
Poem © 2018 by Magical Mystical Teacher
More
Sunday's Whirligig #190
More
Poetry Pantry #431 at Poets United
Wild asters, Apache County, Arizona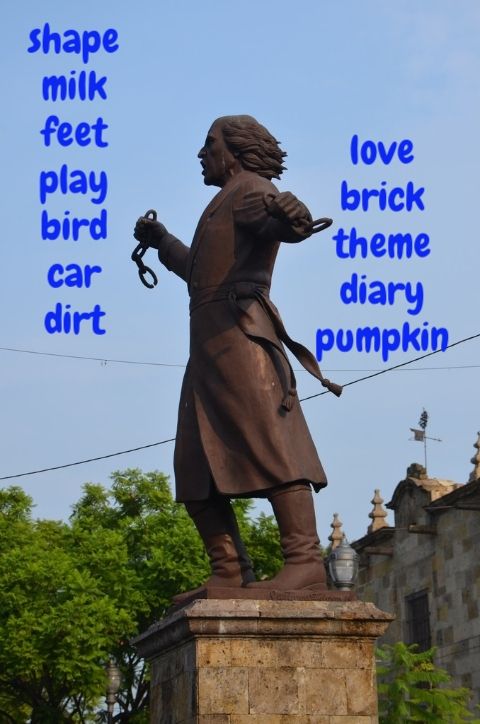 O my little pumpkin-head,
How you thrilled me when you said,

"Bring me milk and bring me dirt—
I will teach you how to flirt.

All night long we'll play at love,
While the wheeling stars above

Shape and shape anew our dream:
To have love our only theme.

Neither brick nor bird nor car
Will outshine that dazzling star,

Star that guides our hands and feet
In the ways that lovers meet."

O my little pumpkin-head,
I'm still thrilled, though you are dead.